Premium Beauty News (Photo: Parfums de Marly)
28 December 2022
Parfum de Marly has entrusted French glassmaker Stoelzle Masnières Parfumerie for the production of the bottle of their latest female fragrance, Oriana.
When creating Oriana, Julien Sprecher, founder and Artistic Director of Parfums de Marly, intended to regenerate the brilliant balance between tradition and innovation. This new and refreshing scent was developed by two incredible perfumers, Nathalie Lorson and Hamid Merati-Kashani. Together, they blended a mix of fruity and floral aromas; using the undertones of mandarin, grapefruit and bergamot to complement the more exuberant perfumes of orange blossom, raspberry and blackcurrant. In addition,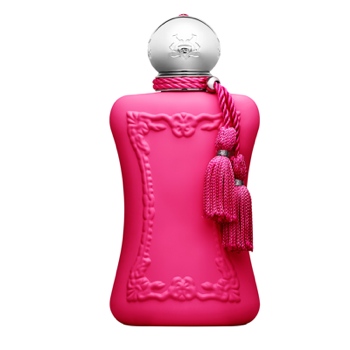 hints of marshmallow, whipped cream, musk and ambrette are found to subtly ensue.
Parfum de Marly uses the same shaped bottle for all their women's perfumes. Men's products also come in the same shaped bottle, the only difference is the colour
For Stoelzle Masnières Perfumerie, the challenge was to bring to life a unique design with very refined engraving. Oriana's scent is available in 75 ml and 30 ml bottles and the glassmaker had to maintain the same finesse with each bottle size, ensuring the smaller bottle didn't lose any of the intricate detail.